Previous Refuge News
There are only a few left, get yours before they are gone.

Visit our SHOP page to order yours.
Our most popular item, now in Stock for 2022. Next year's Calendar features cover girl Xena along with Akula, Valkyria, Samoa, Nyx, Razi, Danu, Wile E, Ginger, Liri, Archie, Albion, Chica and a special remembrance page recognizing the special animals that left us this year and joined the Forever Pack..
Stella
Stella was a sweet andloving girl. She came to us in 2013 from a private party in NM. Stella was an active and happy animal and it was a shock to lose her to liver failure at the age of 10. Visitors often got kisses from Stella from the top of her dog house.
Her pen mate, Dante, is inconsolable. We will try to find him a new friend as soon as possible, however it is very clear that no one can take the place of Stella.
Druid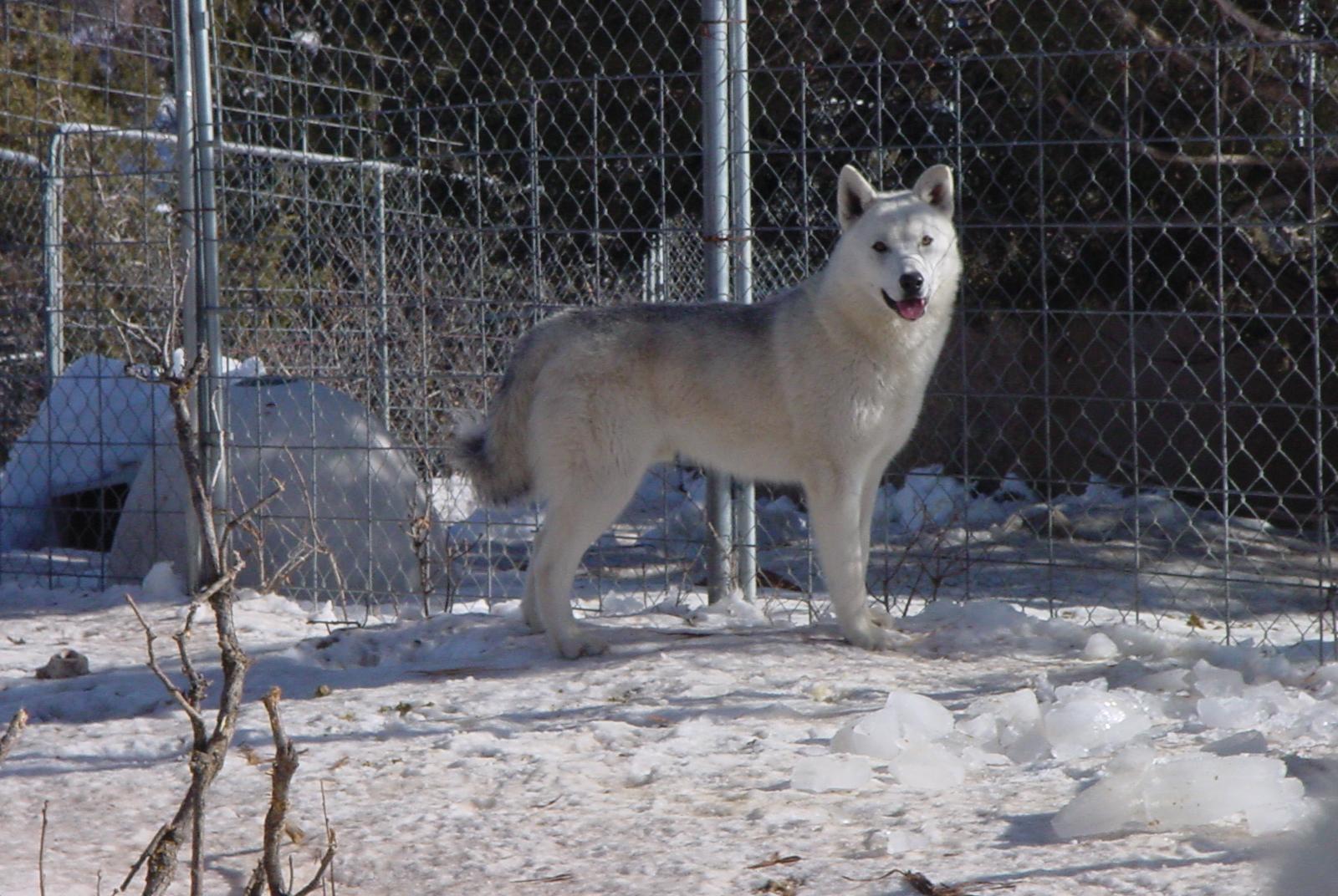 Druid was one of our older animals. He was almost 14 when he passed away from cancer. He has lived here at WolfWood since he was 6 weeks old. He lived with his mother, Vesta, and his brother TJ. 
Vesta and her puppies were rescued from Walsenburg where they were in a very bad situation. It took an emergency midnight run to rescue them. Vesta was so weak she could not even get in and out of the truck. It took a year of rehabilitation, but the small pack of 3 that called WolfWood home went on to live happy and healthy lives. 
Druid was the shy one of the pack and was very attached to his mom. We will miss his interactions and antics every day.
A warm and heartfelt thanks to everyone who supported WolfWood during Colorado Gives and Giving Tuesday this year. Without your generous support WolfWood would not be possible.
Meet Harlow
Harlow came to us from Cortez and makes an excellent companion animal for Aretha. She arrived the night of a huge storm that washed out part of the road to WolfWood. Harlow is sweet, playful and quite the water dog, enjoying her pool in season. She is practicing for co-guard dog duty with Gideon.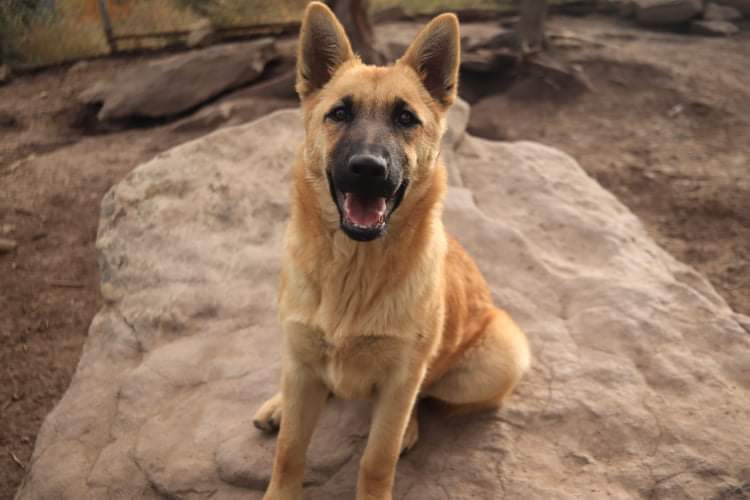 A WolfWood FIRST


Three events in one week!

Tuesday December 7th - Colorado Gives Day
Friday December10th - WolfWood's Annual Holiday Event
Saturday December 11th - Durango Farmers Holiday Market
Be a part of history -
Paricipate in all three!
(For more information on an event, click the link to visit our events page for more information)
Meet Etta
WolfWood welcomes another new member, the very sweet Etta. Etta came to us from a private party in Durango. They took good care of her but just could not keep her. She's energetic and a little shy. She already seems to be fitting in here at WolfWood!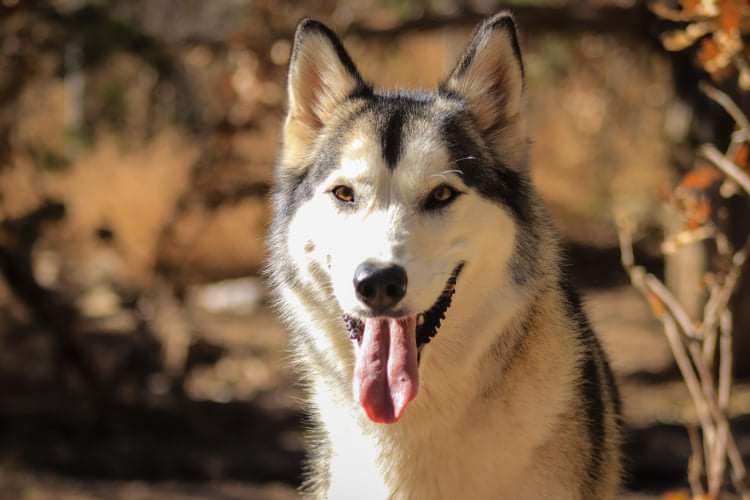 Our heartfelt appreciation to Edward Aldrich, Sorrell Sky Gallery, Karen Littfin, and Bryce Pettit for making Wolfwood's fundraiser a huge success. Even during these difficult times we are very fortunate the above mentioned team continues to support WolfWood and the money raised will help to sustain the refuge over the winter months.

Our second event at Sorrel Sky Galley was well attended by an equal mixture of refuge supporters and art lovers new to the mission of WolfWood. This was an excellent collaboration between Durango businesses, non-profits and the art community and an opportunity for WolfWood to attract new people to their cause of saving animals and education.  

WolfWood is now starting the infrastructure activities needed for the winter. New supplies are being stocked, vehicles and enclosures are getting extensive maintenance, and the animals are eating their fill of meat donated by processors to get ready for the winter. The Refuge is a busy place and we hope you will follow us on Facebook.

Thank you for your love and support.
12.Oct.21
Billy the Kid
One of the most difficult parts of rescue is dealing with the loss of the animals we love so deeply. Over a third of our animals are over 12 and we know we will continue to experience loss. As the animals and humans mourn we also celebrate the lives of the animals and the joy they had and were able to pass on to so many people. Without the compassion and generosity of so many people, many of the animals would not have been given the chance for such a good life.  Every animal we have lost leaves their tracks in our hearts.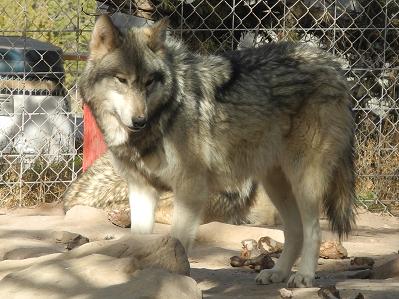 Sadly we have lost yet another member of the Alaska nine pack.
Billy passed away from cancer. He and Ginger lived in their beautiful enclosure towards the back of the refuge. Billy was a big beautiful male and was one of the most photographed wolves at WolfWood. He and Ginger were famous for their very large den and their elusiveness. Billy loved his forest and took full advantage of the trees and terrain in his enclosure. He will be missed by everyone who was lucky enough to interact with him. 
For more of Billy's story as part of the Alaska 9 click here
In a few weeks we will attempt to put Kweo in with Ginger and see how they do.
---
12.Oct.21
Some moments are too precious not to share.
Xena and a new friend at the Durango Farmers market