12.Oct.21
Billy the Kid
One of the most difficult parts of rescue is dealing with the loss of the animals we love so deeply. Over a third of our animals are over 12 and we know we will continue to experience loss. As the animals and humans mourn we also celebrate the lives of the animals and the joy they had and were able to pass on to so many people. Without the compassion and generosity of so many people, many of the animals would not have been given the chance for such a good life.  Every animal we have lost leaves their tracks in our hearts.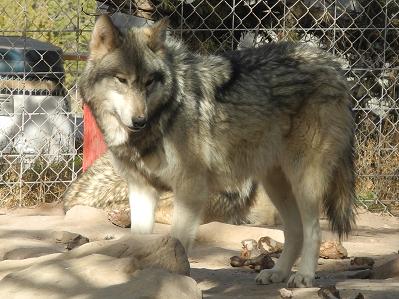 Sadly we have lost yet another member of the Alaska nine pack.
Billy passed away from cancer. He and Ginger lived in their beautiful enclosure towards the back of the refuge. Billy was a big beautiful male and was one of the most photographed wolves at WolfWood. He and Ginger were famous for their very large den and their elusiveness. Billy loved his forest and took full advantage of the trees and terrain in his enclosure. He will be missed by everyone who was lucky enough to interact with him. 
For more of Billy's story as part of the Alaska 9 click here
In a few weeks we will attempt to put Kweo in with Ginger and see how they do.